Dental Implants are artificial devices used to replace missing teeth. Implants come in many different sizes and shapes and they are placed into the bone to act as support for a prosthetic crown. These are the most modern method of replacing missing teeth. They are basically substitutes for the natural tooth roots. They are made of titanium and are usually cylindrical in size.  
BENEFITS
Dental implants have given countless patients many amazing benefits including
Natural tooth like feeling
Improved appearance
Improved comfort
Improved speech
Eat better, enjoy more foods, better nutrition
Convenience
Improved self-esteem
Dental implants are a great value for your investment. Implants look much better, and feel better, than traditional removable bridges, and offer the same force for biting as bridges that are fixed in place. Implants will last your lifetime! 
STAGE ONE:
The Implant Procedure
The implant procedure is the same whether one or all teeth are missing. In this example, there is only one missing lower tooth. For the purpose of demonstration we will assume the patient is healthy and is a candidate for this procedure. 
Placing the Implant
Involves the placement of specific size and shape implants at strategic locations in the mouth. This is performed under local anaesthesia and the entire procedure takes approximately 45 minutes to one hour. Usually the healing is uneventful as the patient is on the prescribed drugs. Implants can also be placed immediately after extractions. 
The Healing Process – Osseointegration 
The healing process takes two to three months. This is the amount of time it usually takes for the implant to become part of the lower jaw, commonly referred to as osseointegration. (osseo – bone ; the bone starts forming around the implant and the implant gets integrated into the bone tissue).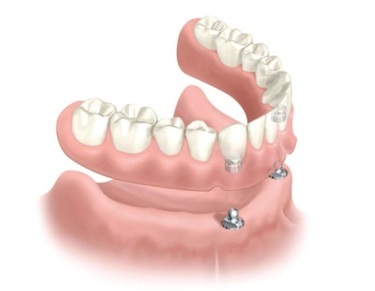 STAGE TWO:

Attaching the Abutment
Today's technologies often include zirconium abutments attached to the implant post, to assure that the new porcelain tooth possesses translucency properties similar to a natural tooth. 
Placing the Crown
After impressions are taken a crown is made and shaded to match your existing teeth. The crown is then slipped over the post and cemented. 
The Completed Implant 
The final prosthetic crown appears as a natural tooth. 
Applications of Implant Dentistry
In many cases, dental implants are incorporated into an overall treatment plan that might focus on the replacement of several teeth. Some patients have the option of replacing each affected tooth with a new implant, depending upon the condition of the bone. Other treatment plans may require implants for anchoring bridges and dentures
Let's Talk About Work
Drop your Email ID to subscribe with us for weekly newsletters